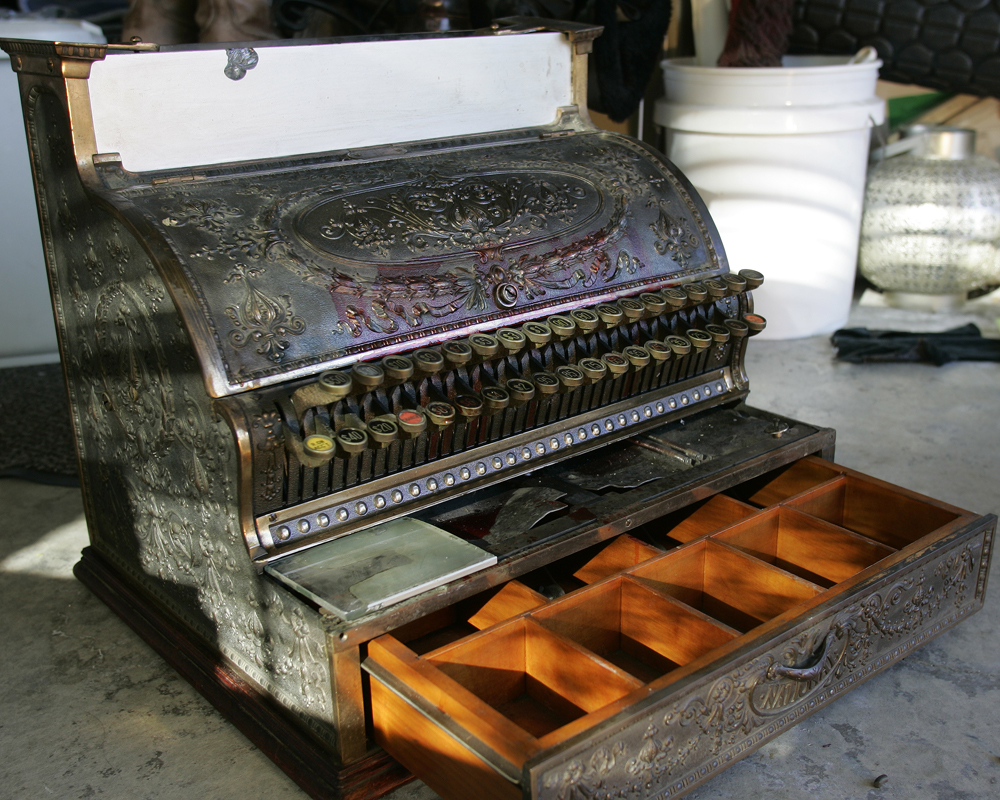 Like our old cash register, we will improve and grow over time.
We've recently passed the first 30 days of having the shop open and the early returns would suggest that people like to visit.

If you are familiar with software development, we're running the shop using an Agile/Lean approach with daily iterations, daily trade shows (quite literally,) and weekly or as needed retrospectives. All while monitoring the data, observing behaviors, and staging tests. We've written about this before, but one of the best tools we have to give us up-to-the-minute intelligence on our shop is the software we're using, Vend. If you run a retail operation and don't use this software, you're missing out. Vend let's us see how our business is performing empirically which we use in conjunction with our observations of behavior in the shop.

Things our visitors seemed to like include our plants, terrariums, lab glass, science related items, and rocks of all kinds. We are tuning our shop to feature more of the things you like and to strategically introduce things you might like if you had a chance to interact with them. So stay tuned, we will be doing a pretty major update of the explore room in particular over the next couple of weeks.

Another learning, or perhaps it's a reinforcement of a concept that we believed to be true, but didn't know until we were open, is that people LOVE to create their own works. The notion of raw materials, kits, and finished products has clearly struck a chord with our visitors and has resulted in many visitors making repeat visits. We love this fact.

With events like the Summer Art Stroll and our busy Saturday/Sunday times, we're learning about how to optimize our customer service. We hadn't considered the impact of a single point-of-sale and definitely see a need to increase the bandwidth so our visitors are not left waiting to transact business. So we'll be doing some experiments in those areas over the next 30 days. We have to crack this nut with the upcoming Half Moon Bay Art & Pumpkin Festival in mid-October.

We also learned that we have been very fortunate in staff selection, Kaila, Sabrina, and Mitchell have each shown their abilities and desire to make our visitors happy and to help deliver that great experience. What we've also learned, is that we're going to need more stellar people like them to grow and so we are looking for outstanding people to join our team. Please pass this along as appropriate.

While we had intended to begin offering workshops, with some of the surprises we faced, we were not able to get them up and running in our first 30 days. We will be doing some test runs over the next 90 days to see what works. So stay tuned…..join our mailing list (bottom of any page on this web site) if you would like push notification of these events.

The most important thing we learned is that our base level hypothesis in founding the store has at least some merit. That by creating a place we would like to be and a positive experience, we could differentiate from the big box and online retail players. That's encouraging and we'll continue to test this hypothesis as the store matures and of course we'll continue to tune the experience based upon what we learn.

Thank you to our visitors, our friends / family, our artists, our suppliers, and our staff for making the first 30 days memorable. We're looking forward to the next 30 days and well beyond.