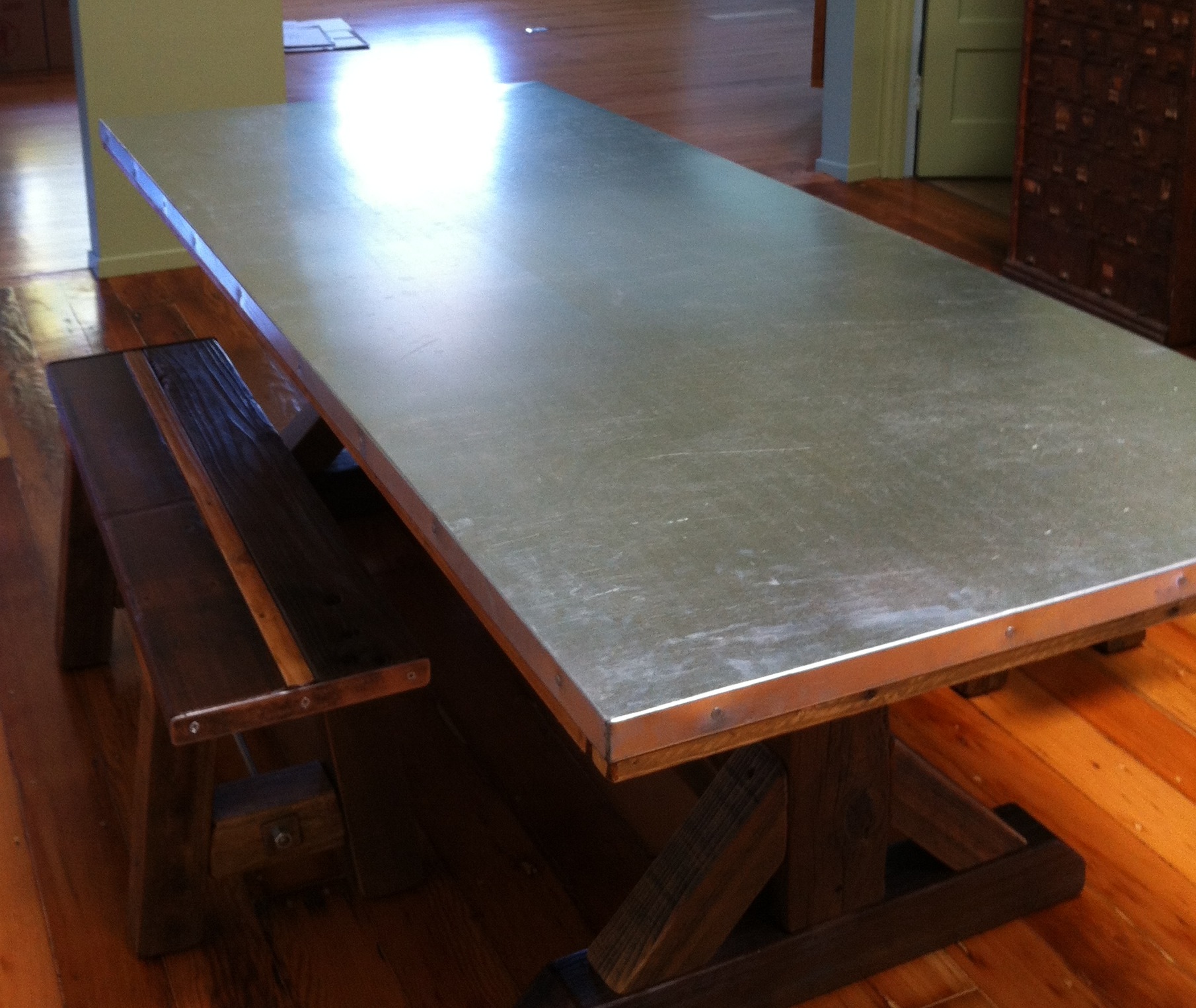 It was a busy day at Oddyssea today in Half Moon Bay. First and foremost, the new work table for the create room was delivered around lunch time. It's got a great zinc top that will be very durable and came along with 2 comfortable benches that are aesthetically very pleasing.

We had a little Keystone Cops routine happen as we attempted to get the table through the front door. This necessitated a quick trip to the hardware store to get the right drill bit to remove a few bolts and take the foot pads off the table. This provided enough clearance to bring the table in. Thankfully, the table is made from sturdy stuff and the minor disassembly doesn't seem to have any negative impact on it.

The table and benches were built by Terra Amico, specializing in fine wood work using salvaged material. We are very pleased with this piece and are anxiously awaiting a few others we've asked them to help us with. We can't wait!

This morning also brought the first real interaction with the Half Moon Bay Chamber of Commerce. We met the team and shared the Oddyssea concept with them to an enthusiastic reception. Several good, pragmatic ideas were suggested and many introductions to other businesses in the area were undertaken. I left feeling very positively about how the Chamber will work with us to make Oddyssea a success.

The bid on the back flow prevention valve that is required by the Coastside County Water District is underway and seems like it will be relatively minor once scheduled. There is a hand sink that I installed in the create room – actually, a better term would be mounted as neither the water supply nor drain are yet connected. That's a task for tomorrow.

Today we filed the application and paid the fee to have our shop inspected by the Coastside Fire Protection District. They do a once over to make sure that we don't endanger our customers or ourselves with fire hazards. The inspection will happen next Tuesday.

Also, our first real shipment of inventory arrived (the cheap novelty bits) which created great excitement for Spouse, Daughter, and Daughter's Chum. Being Earth Day and all, it really hit me exactly how much cardboard and plastic we're going to need to recycle as we receive, process, and refresh inventory. Good thing we have a truck!