Here's the general mindset I had before getting Intuit's missive this morning: I have only 1 employee and the service has been working well for me. I enjoyed this service even back when it was PayCycle, pre-acquisition. However, the Intuit version has always felt expensive to me and not aligned with the small business value that PayCycle had as a standalone business.

The letter below was waiting for me in my inbox this morning from Intuit Payroll Services: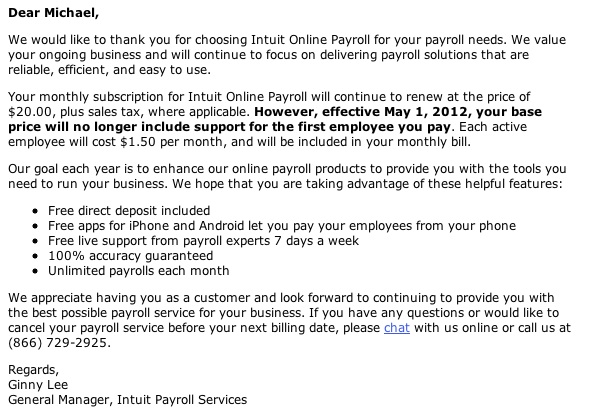 My first reaction is that the letter is facetious in that it's really a communication of a price increase to customers like me of 7.5%. There is anticipation of customer drop out as they invite customers to "chat" with them online (doesn't work in a Safari browser) or to waste 15-30 minutes of their day calling customer support at Intuit.
I'll say this, I don't feel like a valued customer when I read this letter and given my mindset before receiving the letter, I think I'll look for alternatives. Having recently been a GM of a business in a large company, I can also say that it's in poor form to sign one's name to something that goes to a customer community and not have a direct means of communicating with the executive who signed the letter (I'm talking to you Ms. Lee.)
$1.50/month isn't that steep of increase in the grand scheme of things, but the way it's being approached, the way it's being communicated and supported, and the already high pricing lead me to believe I'm better off to take my small business payroll needs elsewhere.
Anyone out there have a great, cost-effective recommendation for payroll services that work and value you as a customer? If so, please leave a comment.