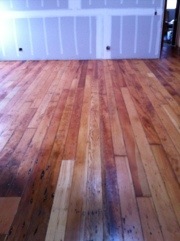 Dropped by the store this morning on my way to appointments in the South Bay and saw the finished floors, they look great! We've got one more drywall step today and then off to painting.

Yesterday we met with the folks from Terra Amico who build custom alcoholism items from salvaged materials. Joe & Lisa have some fantastic things they've created, it's well worthwhile to check out their Photobucket stream of completed projects. We're very happy to have a chance to work with them on some of the fixtures for Oddyssea.

We're getting really excited!