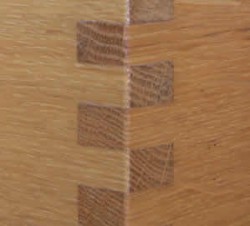 I'm working on a prototype for a product we'll carry in the store. Nope, not ready to talk about the store concept or this particular product. Let's just say that I needed to assemble a wooden box frame to help support the main components of the prototype.

Now, strictly speaking, I didn't need to use a box joint. I could have used a butt joint or half-lap and it would have worked just fine. Look at the picture, it's a pretty joint! It became a point of pride that I learn how to make box joints in some reasonable and repeatable way.

I tried the first time free hand at the table saw with a single blade. That didn't work so well.

I tried the second time by sketching out the joint on the wood then using a hand saw and chisel to do the work. Not only did it take a long time, the joint looked horrible, though it did work.

Finally I broke down and purchased a stacked dado for my table saw and built a box joint jig. It worked!

There is something deeply satisfying about creating something tangible; it hits both the mental and the physical aspects of innovation. I look forward to the next time I need to make a box joint now that I know how to do it.